Talking Tom 2
If you ar looking for Talking Tom character click here, or talking tom 1 click here.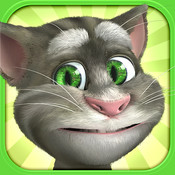 ✔ Talk to Tom and he will repeat everything you say in a funny voice.
✔ Pet Tom's belly or head and make him purr.
✔ Poke his head, belly or feet.
✔ Pull or touch his tail.
✔ Press the fart button to see Ben fart and Tom grab his nose. After that Tom repeats with his nose closed for a while.
✔ Press the bag button to make Ben pop a paper bag and scare Tom. It's hilarious.
✔ Press the phone button to make Tom play with the original Talking Tom app.
✔ Press the feathers button to see Ben hit Tom with a pillow.
✔ Press the ? button to make Tom pull random items from behind his back.
✔ Shop & equip Tom with awesome accessories.
✔ Record and share videos of Tom.